Recommended Witch Books:
Review:
Magic that rings true, rare interviews with seminal Gardnerian figures, and a fascinating 1970s-era view of the challenges that Wicca's burgeoning popularity posed the Craft community; written by a Strega practitioner and ground-breaking activist for Pagan and gay rights.
Tags
Witchcraft Basics
Review:
Alphabetized information about Craft beliefs, traditions, lore, and practices; written by a witness to the modern rise of Witchcraft.
Tags
Witchcraft Basics

Review:
Illustrated, definitive, fascinating guide to Witchcraft that explains how everyone can use common ingredients to work effective magic to help themselves, others, and the planet; written by trained, experienced Gardnerians.
Tags
Witchcraft Basics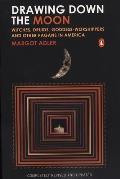 Review:
Craft history, information about diverse magical practitioners, groups, and Covens, and resources; written by a traditionally trained Gardnerian Witch; the author included information about Coven Oldenwilde in this 20th-anniversary update of her 1986 original edition.
Tags
Witchcraft Basics