Recommended Witch Books:
Review:
An expanded edition of the 1954 classic by the father of the modern Witch renaissance. Covers myriad magical topics, including Picts, pixies, Pagan persecution, cauldrons, and Kabbalah, and includes a biography of Gardner and contributions from some Wiccan elders regarding the Olde Religion's past, present, and future.
Tags
Witchcraft Basics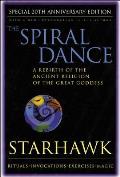 Review:
An eclectic primer about ancient and modern Goddess-worship and Pagan cosmology; written by a contemporary magical practitioner and co-founder of the Reclaiming trad.
Tags
Witchcraft Basics
Review:
Authentic beliefs, customs, history, practices, and theology of followers of the Olde Religion; written by a public, trained High Priest who ran the Witch Museum on the Isle of Man and is responsible for the Craft's popularity today.
Tags
Witchcraft Basics