Recommended Witch Books: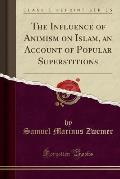 Review:
Exploration of the polytheistic animism that preceded monotheistic Islam, and its continued influence on the later religion and other cultures; written by a Princeton Theological Seminary professor.
Tags
Witchcraft Basics
Witchcraft-related Subjects
Review:
An expanded edition of the 1954 classic by the father of the modern Witch renaissance. Covers myriad magical topics, including Picts, pixies, Pagan persecution, cauldrons, and Kabbalah, and includes a biography of Gardner and contributions from some Wiccan elders regarding the Olde Religion's past, present, and future.
Tags
Witchcraft Basics