Recommended Witch Books:
Review:
Magical myths, folklore, customs, and practices of cultures worldwide compiled by a Scottish anthropologist. While its material is sometimes scattered or specious, it remains a valuable resource. (Actual book cover not shown.)
Tags
Witchcraft Basics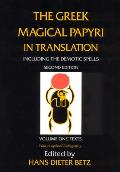 Review:
The title word "Demotic" isn't a typo of demonic: That material is Coptic. The illustrated main corpus is a collection of 2nd-century B.C.E. to 5th-century C.E. Egypto-Greco-Roman magical spells, rituals, and invocations from ancient papyrus spellbooks, many of them found in the tomb of a magic man in Thebes. Also known as the Papyri Graecae Magicae, or PGM.
Tags
Witchcraft Basics

Review:
Illustrated, definitive, fascinating guide to Witchcraft that explains how everyone can use common ingredients to work effective magic to help themselves, others, and the planet; written by trained, experienced Gardnerians.
Tags
Witchcraft Basics
Review:
Explorations of Pagan topics such as the Life of Hypatia, an Orphic Hymn to Artemis, the Sacred Geography of the Ancient Greeks, The Science & Art of Animating Statues, and Pythagorean Harmonics, etc.; written by academic researchers and magical practitioners.
Tags
Witchcraft Basics