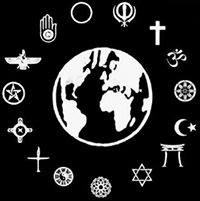 Please join us at a free Interfaith Dialogue panel at UNC-Asheville Thursday Nov. 17, 2011, from 7:00-8:30 PM at the Highsmith Student Union, downstairs in the Grotto. The Dialogue will have two main parts to it, the discussion from 7:00-8:00, and then the question and answer from the audience from 8:00-8:30 PM. Here is the list of religions and representative  panelists as sent us by the student organizers:
Catholicism: Father John P. Cahill
Wicca: Lady Passion and *Diuvei
Zen Buddhism: Sunya Kjolhede
Conservative Judaism: Rabbi Robert Cabelli
Reform Judaism: Rabbi Batsheva Meiri
Humanist: Ms. Jackie Simms
Sikhism: Hari Mandar Singh Khalsa
Bahai: Dr. David Gillette
Sokka Gakkai Buddhism: Laura Petritz
Christian Pastor (Paradigm Church): Terry Hollifield
Muslim: Imam Kamal and Dr. Abdel Mayyas
UNCA students derived the topics and questions. They are:
Major Topic: Is religion relevant to the individual?
Sub-topics:
Does a religious view of the Afterlife shape the individual? If so, how so?
Does religion give us the answers to the meaning of life?
Does religion help individuals navigate the ups and downs of life?
How does religion affect the individual's understanding of morality?
Major Topic: Is religion relevant to society? Is religion relevant to politics?
Sub-topics:
Pledge of Allegiance — "under God" — should we remove this, or keep it?
Do you believe that Asheville is a "cesspool of sin"?
Why are places of religious worship important to have in terms of community?
Does evil exist? How does your religion address evil?
What is your perspective on war?
How does religion address secular influences?
Is religion an opiate of the masses?
SHOULD BE A LIVELY DEBATE, and we hope to see you there! 😉